Financial Planning
Calculators
Discover the magic of compounding!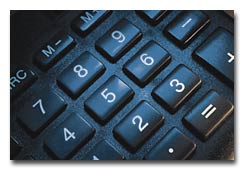 If you could have one of the following as your pay for thirty days' work, which would you choose? (A) $10,000, or (B) a penny the first day, two cents the second day, four cents the third day, eight cents the fourth day, and so on, with each day doubling on out to thirty days.
The $10,000 sounds very attractive, but the fact is that the penny doubled each day for thirty days adds up to over five million dollars. Of course, that is 100% interest compounded daily, a rate not available to most of us working folk. Nevertheless, this example shows you the power of compounding on your investment earnings.
Here are some easy-to-use calculators.
You can get rough answers to your financial questions by using the following calculators and making a few estimates on your part. If we can be of assistance or answer questions for you, please call us.
If you found these calculators useful, please tell a friend about us.
Click here to tell a friend.
The information contained in this site is general in nature. All attempts have been made to keep it as current as possible as tax laws are constantly being revised. We therefore suggest that you do not act upon this information without consulting a tax professional as your situation may be different or tax laws may have changed.
Thank you for visiting our website. Please return often for the latest tips on how to keep more of what you make.